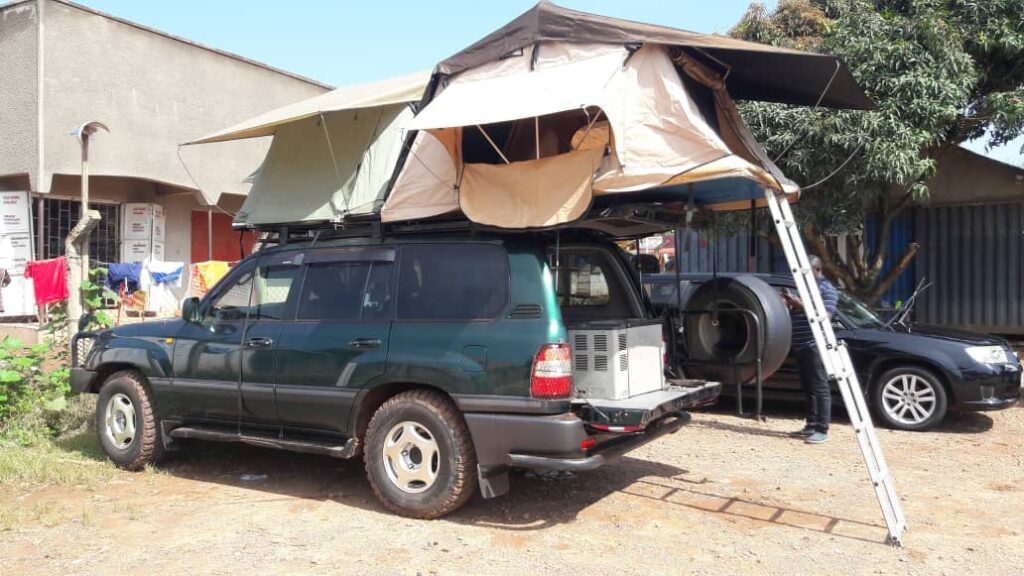 Welcome to East Africa with the new travel option. Planning to explore East Africa that is Uganda, Rwanda, Kenya and Tanzania. There is a new travel option that has been introduced well copied from Europe. Before African safaris used to be purely escorted and every traveler coming to Africa always thought of guided safaris.
Today, with the new globalization in the world also the African continent is copying up with the new travel changes. With so many local and international travel car rental agencies in Africa the 4×4 rooftop tent cars are modified and provided to travelers interested in discovering East Africa on their own pace.
The 4×4 Car Hire Uganda managed by the 4×4 Car Hire Africa has got quite big fleet of rooftop tent vehicles that are offered to tourists visiting Uganda and other countries in the region like Rwanda, Kenya and Tanzania. Such rooftop tent cars are suitable to travelers on long-term self-drive holidays and they are somehow economical and this offers a great opportunity for the tourist to camp in the wilderness area in and out the safari game parks.
Rooftop tent car, we tend to provide are 4×4 WD and as always going for long holidays we try our best to maintain these jeeps suitably to make them fit into the trip without any hassle. Sometimes our travel experts together with the traveler's tailor-make very suitable self drive safari itineraries and to go on a very interesting route we also advise to start with the East – North part and this starts with Jinja a tourism city with so many adventurous activities along the River Nile. Drive to the Sipi Falls in the Mount Elgon National Park and here you have much more to enjoy like the coffee tour and village walks.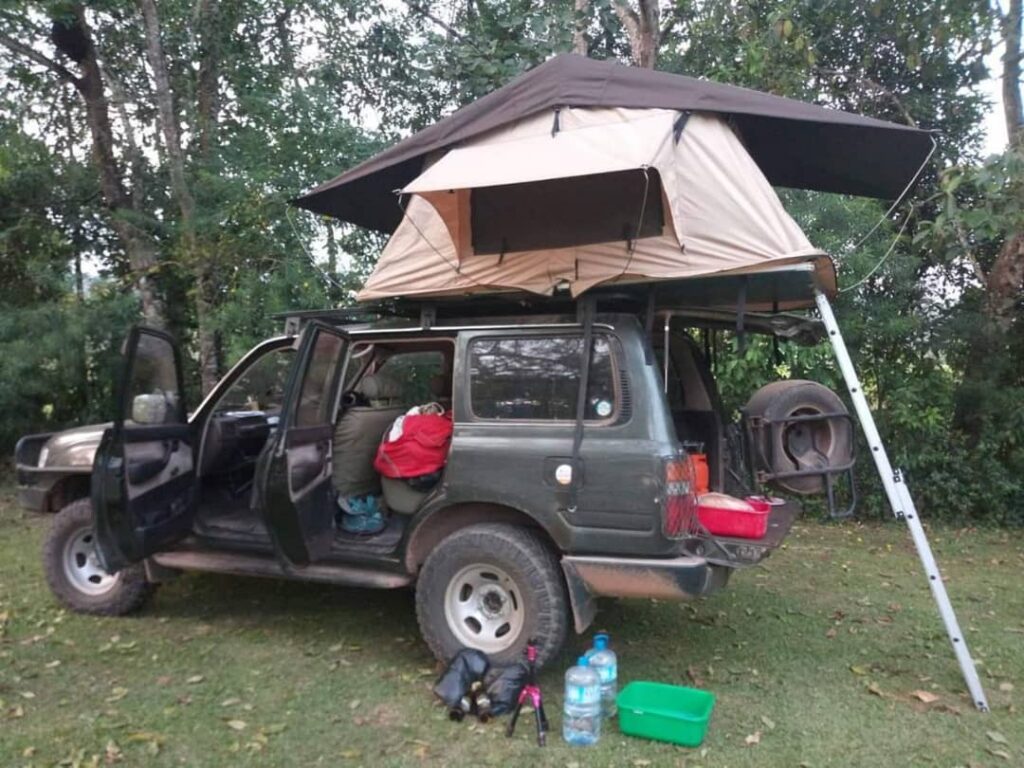 Remember we are on the way to the Kidepo Valley National Park but before you reach here, we shall go through the undulating landscapes of the Karamoja region. Make a stopover at the Pian Upe game reserve and in this reserve, you will have scenic game drives looking for wildlife and with the amazing hills your camera should be with you to take nice wide long view of the green Savannah.
Moroto town here we come and we are so much pleased to experience the cultural villages and from Kara-tunga Camp we can get local guides to take you into the village tours and this will immerse you into the real culture of the region. Ready to go? Don't miss out the visit to the Nakapelimuro village which is one of biggest cultural villages in East Africa and here you will see the real life living of the locals in this village and then drive to the Kidepo which is among the safari parks ranked by the CNN and BBC new media houses as best place to visit in Africa.
While in this park get ready to go on so much interesting game drives both in the morning and evening and taking a very informative game drive in this park always take a safari park ranger. There are so many interesting tracks to take and first drive the Nurus valley and, on this track, you will go far looking for the wildlife and the ostriches. When the CNN and BBC they based on the high population of wildlife that you can view while on game drive, the undulating landscapes and the culture.
Well, with our 4×4 rooftop tent car we can camp in any wilderness campsite of your choice. Some of the campsites here include the Kakaine and Apoka campsites. Also, if you are taking 4×4 rooftop tent car and you are not doing the cooking part please ask Moses will find for you suitable camps that will allow you pack your car and then have the hospitality services at the camp and among them include the Kidepo Savannah Lodge.
For over years Kidepo Valley National Park was so much isolated and not much visited by the tourists due to the poor accessibility and the few that could come always had to use the domestic airlines like Aero Link Uganda. But today this is no more though the roads are not all so good but can be managed by the today 4×4 WD jeeps that Uganda tour operators offers to tourists both on self drive holidays or the guided tours.
Therefore, today if you visit Uganda and you don't go to Kidepo Valley National Park you have missed one of the best Uganda safari highlights in Africa. Kidepo Valley National Park is much known for the wildlife but today it is a combination of both wildlife and the interesting culture that you experience in the entire Karamoja region. From the park you can encounter the mountain hikes and, in these hikes, you will visit some cultural groups like IK, Gie and the Manyatta. If you have more time, give each tribe a visit and you will have different experience of their daily day life.
When we shall have more time we shall bring more interesting information on this park, after being filled with the Kidepo we shall continue to Murchison Falls National Park where we had quite long period of time and we managed to discover it all in details.
From Kidepo Valley National Park we drove straight to Gulu town which has been modernized and for you were here 10 – 20 years back, the town now looks amazing and you need to visit again. We took a night here at the Bomah Guest House after our evening walk and from it we met a new friend here and he told us the Aruu falls and just because we didn't have time but the way he explained them they look to be amazing and if you have more time in this town you can visit the falls.
Then our next day we drove to Murchison Falls National Park and via the Tangi gate we enter this park and we had en-route game and on our first day we were not disappointed and much wildlife was spotted and reaching at our lodge we had to relax. Though we were doing the rooftop tent camping here we took 4 – nights in the Pakuba Safari Lodge and still Moses did his best and secured us a good rate from this lodge.
From here we took several game drives and here we managed to take night game drive and we almost spotted the night mover wildlife. Then the next day we took the dawn game drive and this was so amazing and this park offer it all and later we took another amazing experience the Boat Ride towards the bottom of the falls. In the 2 nights stay the park was fully consumed and we had to stay one day relaxed at the lodge swimming.
Then on our last day we visited the conservation corridor "Budongo Forest Reserve" and with the help of Moses we had to swift one stay at the Budongo Eco Lodge and here we experienced the chimpanzee trekking in the jungle.
Later, we had to summarize our Uganda route and return back to Kampala – and then fly to Tanzania where we meet our car again from the same company to experience Tanzania safari parks and game reserves.