Singita has long been known as one of the senior luxury safari brands in Africa. Their camps and lodges always hold a certain element of exclusivity which no other brand has managed to achieve to such a high level.
Just because it's the most expensive luxury safari doesn't mean it's the best for you but there are certainly some clients for whom Singita is their one and only place to stay whenever they are on safari. They have fantastic guides and the food would outdo many a London restaurant, their locations are also magical and the service second to none.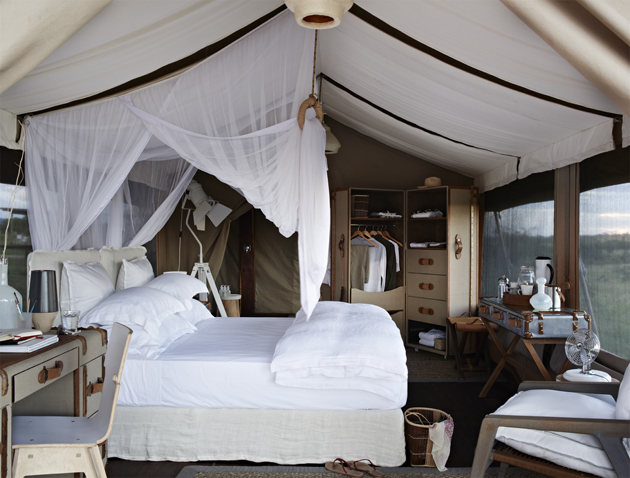 Tanzania's Serengeti National Park is the finest all-round safari destination for premium tours in Africa. It is best known as the home of the legendary annual wildebeest and zebra migration. The Serengeti is also well known for hosting many large predators such as lion, leopard, cheetah and spotted hyena.
Other common wildlife includes large herds of buffalo, elephant, giraffe and different types of antelope. This national park has an ever-growing number of upmarket and luxury lodges and exclusive camps. The park's vast size means that it is usually easy to get away from the crowds. Enjoy the Tanzania Rwanda Safari with the combined stay in the Singita Collection in Serengeti – Tanzania and Volcanoes National Park – Rwanda.
Singita Serengeti Explore
This is one of the favourite mobile tented camps in all of Africa and is certainly the most luxurious. This exclusive camp is furnished to the highest quality and moves around the Singita Grumeti Reserves in the Western Serengeti depending on where the game is that month. The camp is decorated with campaign furniture and feels exceptionally romantic and wild.
This authentic tented camp combines the thrill of camping in the most coveted wilderness settings, without forfeiting any of the comforts & intuitive service inherent to the Singita guest experience. Set up based on the requirements of each individual booking, explore offers up to six 1-bedroom custom-designed tents configured to suit the group.
It includes dinning under stars and sleeping in canvas, cooling off in the camp's inviting plunge pool and a level of closeness to nature that heightens the sights, sounds and smells of the bush. It's the ideal escape for those yearning for an unfiltered African adventure, allowing them to connect with the Earth and wildlife in ways they've never done before.
Explore allows guests access to a 350,000-acre concession on the renowned migratory route traversed annually by more than a million wildebeests.
Singita Serengeti House
This private house is located in Singita Grumeti and is used by celebrities and many other individuals who value privacy. It is modern, extremely luxurious and actually still manages to feel like a home from home. They do an amazing job here of making it feel relaxed and informal, very personal and very welcoming. You will literally never want to leave but may have to re-mortgage your house if you want to stay permanently.
Boasting endless views of the vast Serengeti plains as well as the nearby waterhole where game regularly gather to drink, this modern African home includes a 25-metre rim-flow, expansive outdoor dining decks and fire pit ensuring continuous engagements with the wilderness.
The villa's four suites have serene bathrooms each, outdoor showers and private terraces, embody refined luxury underpinned by contemporary comfort, and this expansive property also includes an eat-in family kitchen, media room, fully-equipped fitness centre, tented massage treatment suite and tennis pavilion.
This modern safari experience includes a full staff complement and private access to an untouched wilderness on the annual wildebeest migration route.