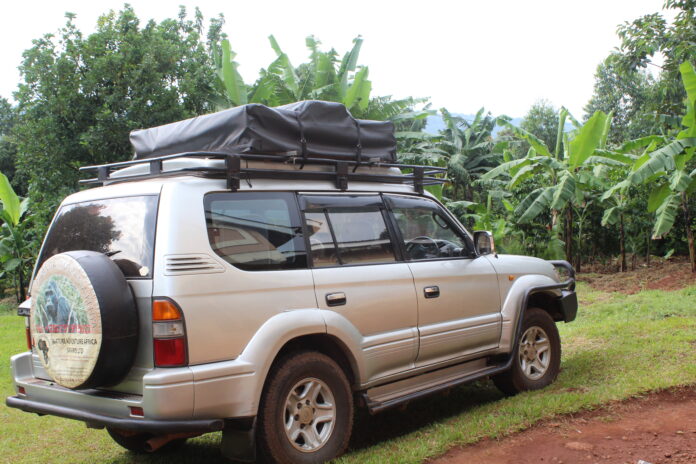 Rooftop tent camping is a very enjoyable experience in the African wilderness. 4X4 Car Hire Uganda will make your next on or off-road adventure the best ever in a rooftop tent car!
A comfortable bed in a roomy tent with a great view and setting up in just a few minutes is what rooftop tent camping is all about.
However, there are very many questions being asked frequently by tourists about rooftop tent camping, and below are some of them along with their answers:
Which vehicle is suitable for a roof top tent?
Roof top tents can be fitted to most vehicles, especially Suvs and 4WD. Land cruisers, Super customs, Safari Vans, are perfect for a rooftop tent.
How high does the vehicle have to be?
Any height is fine for a standard roof top tent – an adjustable telescopic ladder included that can reach a maximum height of 2.3m.
Does a roof top tent affect driving performance?
Having a roof top tent up top will at times alter your vehicle's centre of gravity so you will have to be a bit more careful driving around corners, but apart from that there are no major differences.
How easy is it to get a roof top tent on and off a vehicle?
Roof top tents usually weigh between 50 – 60kg so will require 2 people to lift it over the roof of your vehicle and onto the roof racks. For the initial installation, two people are needed to lift and mount the tent onto the rack but once installed; the tent can be easily set up and folded away by a single person.
There's no need to disassemble or remount with each new adventure—just pop up the tent and enjoy! However, for the case of a tourist you will find the rooftop tent already equipped atop the car rack.
How do Rooftop Tents Work and Mount?
They have a quick setup that allows you to enjoy your adventure without the need to worry about tangled poles or accidentally nailing your finger.
The first part of the setup is a little bit more time consuming, but you'll only have to do it once! The rest is a piece of cake. The first step is to install the rooftop tent onto the roof rack of your car. This is so your rooftop tent is secured perfectly and safely.
Meanwhile, you will most likely require a team of friends to help you finish this first part, since mounting it will be a risky maneuver on your own though still in most times your car rental agency will do it for you.
The rooftop tent comes with the specific instructions on where to screw it in and how to put the parts together appropriately (every rooftop tent has different measurements and requires a certain roof rack as well).
Are roof top tents waterproof? How do they handle wind?
Of course, roof top tents have been designed to handle the world's changeable weather. A waterproof rain-fly over the top and Poly-cotton canvas with taped seams will keep rain out. To handle winds there's an optional stabilizer bar and guy ropes and pegs are included to stop the tent from flapping in the wind.
Do roof top tents get condensation?
In the 'right' combination of cold, still, humid conditions all tents can suffer from condensation – to prevent and minimize condensation maintaining good airflow, and ventilation is a key.
How long does it take to set up and pack away a roof top tent?
Setting up the roof top tent takes a few minutes – unzip the travel cover, roll and secure, unfold the tent base, set the ladder and secure the entrance awning spreader bar, set window covers and that's about it. Packing away takes a few minutes longer.
Are rooftop tents comfortable?
Roof top tents have plenty of room inside the tent for 2 people. There's a comfortable high-density mattress with plush top and tough polyester base cover and bedding can be left in the tent when packing away. Also comes with storage pockets and handy gear loft to keep clothing and bits and pieces out of the way.
Can I pack the tent away when wet?
It is not recommended to pack any tent away when wet but on rainy days you may have no choice. The tent can be packed away when wet but it should be opened up and dried out as soon as possible to prevent mould and damage.
Why choose a rooftop tent?
Roof top tent is a different camping experience and offers a number of advantages over traditional tents, such as; easy setup, easy storage, versatile, rooftop tent car will help you in transport and accommodation at ago, staying off the ground away from mud and dust and the creepy-crawlies, and enjoying stunning views.
Got any other questions? Need more info?
If you'd like to know more about roof top tents (rooftop tent camping) then just contact 4X4 Car Hire Uganda to get an immediate assistance!