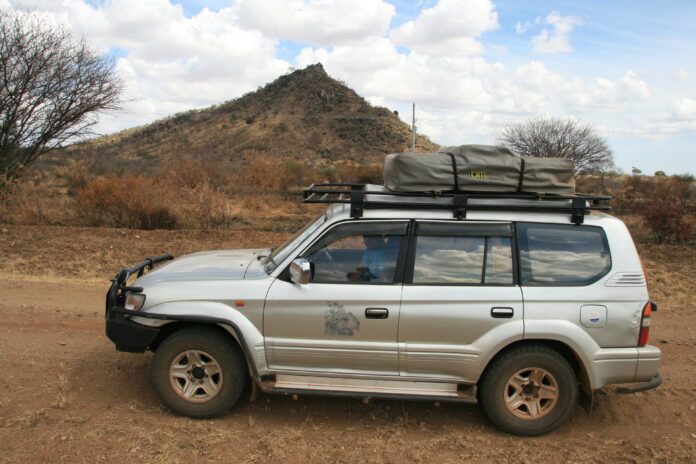 For first time visitors to East Africa, the thought of a self-drive safari can be frightening. With a guide, you undoubtedly have the benefit of an expert pair of eyes for spotting wildlife; and you have someone knowledgeable to take care of the driving, directions and most importantly, your safety.
But, for those with an adventurous spirit, a self-drive safari car gets you closer to the essence of Africa which is, after all, the freedom to explore and discover the continent's wonders in your own time.
Self-drive safaris have many benefits. There are no prescribed schedules or time limits, meaning you can spend two hours photographing a lion if you feel like it, or take that less-traveled road simply because you have a gut feeling that it might yield an exciting sighting.
Kenya is one of the top self-safari destination in East Africa. It is the original home of the safari. This is the land of the world renowned Masai Mara National Reserve where tawny coloured lions feast off the hundreds of thousands of wildebeest that annually migrate into the country from neighboring Tanzania.
This is the country where lakes can be brushed pink by a million flamingos, where elephants trumpet below the snows of Kilimanjaro and where red robed Maasai stride over savannah plains. With such classic images as these being everyday sights in Kenya there is quite possibly nowhere else in Africa better for a self-drive safari.
A Kenyan safari can be as easy and luxurious – or as remote and challenging – as you want it to be. You can travel by light plane from animal studded park to animal studded park while staying in some of the most decadent safari camps in Africa and reaping the benefits of the continent's finest wildlife guides. Or, you can hop on a matatu minibus crammed with locals going to market and camp out under an acacia tree all alone in the wilderness.
From a personal perspective Kenya means more to me than most countries. I've spent many months travelling around the country. So where are my favorite parts of Kenya? Well, of course, like everyone I adore watching the sun set over the Masai Mara grasslands, but perhaps my favorite parts of Kenya, of Africa even, are a world away from these safari clichés. I love the green and wet western highlands where few tourists venture but where the mass of Kenyans live.
This is a muddy, agricultural region with small market towns whose populace is more concerned with the price of maize than the antics of a lion. Travelling the west is about taking ferries to remote and beautiful islands on Lake Victoria, hiking through Congolese-like forests and eating sausage and chips in cafes with red-checked table clothes.
Then there's my next favourite area. The north. This is different again. It's a wild frontier land of vast, shattered lava rock deserts, lakes of jade, lonely forests on hilltops high in the sky and feather bedecked Samburu warriors in full regalia. Travelling the north is, in my opinion, one of the best adventures in Africa.
But Kenya has so much more still to offer. There's snow on the Equator at the summit of Mt Kenya, sultry white sand beaches with coral reefs teeming in multi-hued fish down on the coast and a buzzing cosmopolitan cultural scene in the capital, Nairobi (itself the most interesting city in East Africa).
Add it altogether and you have the most varied, exciting and rewarding country in East Africa. If I had to pick just one country in the world to return to time after time then without hesitation it would be Kenya.
Uganda
Uganda is one of the best self-drive countries in East Africa. Uganda has a modest profile among Africa's top safari destinations. With no parks of the size or popularity of Kruger, Chobe, Serengeti or other such A-listers, its main wildlife draw card has become the mountain gorilla.
Alongside Rwanda, the country undoubtedly offers Africa's best opportunity for close encounters with this impressive and endangered primate. Indeed, many visitors arrive just for this experience, taking the rest of their safari elsewhere.
There is no denying that a self-drive safari to go for a gorilla trek in the steep, damp forests of Bwindi Impenetrable National Park is one of the world's great wildlife experiences as is the equally thrilling chimp trekking at Kibale.
However, this focus on the two great apes does not do justice to the breadth of Uganda's appeal. Yes, the country may not offer quite the same sense of scale and spectacle as some of its larger neighbors. Small and heavily populated, it has fewer tracts of undisturbed wilderness.
Yet, for its size, it is arguably the most bio diverse destination in Africa a fact largely explained by its straddling of two very different biomes: the equatorial rain forests of the Congo Basin and the tropical savannahs of East Africa. A self-drive safari here thus offers both plains game and forest dwellers. Add to this the semi-arid country of the north, and you can end up with an amazing haul of species.
Primates are certainly a top draw card. The two great apes were among an impressive 13 species that I saw on my most recent trip as high a total as you might expect anywhere in the monkey-rich Amazon.
Move away from the forests to the savannah reserves of Murchison Falls and Queen Elizabeth national parks, however, and you'll also find healthy populations of elephant and buffalo, plus plentiful antelope – including hartebeest, topi and the local special, Uganda kob.
On a self-drive safari in these parks, if lucky you will be able to spot large predators, including lion, leopard and spotted hyena, occur in small numbers but are regularly seen in key locations, while Kidepo's open grasslands in the north are also home to cheetah.
On protected waterways, hippos and crocodiles are very abundant, while Mburo National Park has zebra, Murchison Falls has Rothschild's giraffe, and little-known species such as giant forest hog and potto can also be seen, if you know where to look.
Uganda is small, no larger than the UK, which means that you can take in most of its key destinations on a single self-drive safari. The national parks are well set-up for visitors, the welcome famously friendly and the standard of guiding generally excellent.
Journeys on the country's rough roads can be arduous, admittedly, and can take longer than any map might suggest. But the rewards make it well worth your while.