Welcome to East Africa! Now that tourism is opening back up, and with proper safety protocols being established, Nature Adventure Africa Safaris, a leading Eco Safari Company is proud to announce a new luxury safari that is sure to bring you close to Africa's amazing wildlife and primates!
The Tanzania Rwanda Luxury Safari – 10 Day is designed to bring you to all the wonders of East Africa, with an itinerary that packs some of the most memorable experiences that will exceed one's expectations.
Arrival in Tanzania
Your luxury safari will begin in beautiful Tanzania, the most fabled of wildlife-rich countries on the African continent. Upon arrival, you will spend your first night at the Legendary Lodge in Arusha.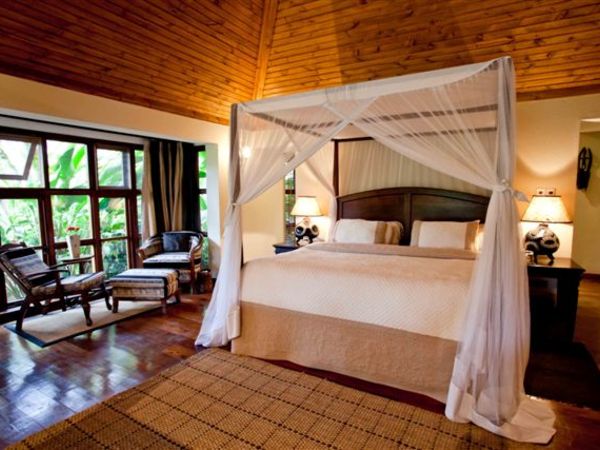 Legendary Lodge, Arusha in Tanzania
Legendary Lodge is set amidst a working coffee farm on the outskirts of the city. With tropical gardens, you can stay either in one of the ten luxurious garden cottages or one of the two classical family lodges, each containing a private veranda with king sized beds, a fireplace lounge, and en-suite bathrooms with showers and large bathtubs.
Relaxing Six Night Stay in the Serengeti National Park
After breakfast, you will fly in style with Grumeti Air from Arusha to the Serengeti National Park in Tanzania, home to the thundering herds of over one million wildebeest and hundreds of thousands of zebra and impala as they make their annual migration, following the rains.
Here you will see Africa at its most awesome, rich in biodiversity among endless plains, sprawling savannas and acacia-laden woodlands.
In addition to the herds, including buffalo and elephant, your guide will lead you on adventures seeking out lion, leopard, hyena, cheetah and other predators, not to mention finding some of the smaller, lesser known creatures that call the Serengeti home.
You will spend your first three days/nights in Serengeti at the Singita Mara Tented Lodge for an authentic safari designed to cater to your luxury journey.
Scenically located on the River-bend in Serengeti's Lamai triangle, this tented camp provides a private engagement with the local wildlife, one unsurpassed in northern Tanzania.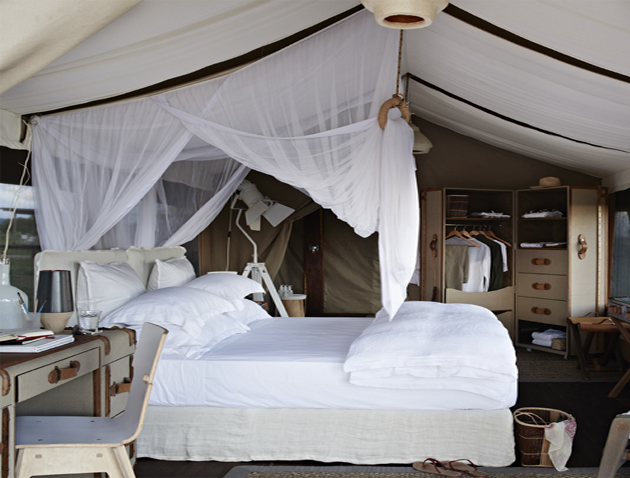 Singita Mara Tented Lodge
The Singita Mara Tented Lodge provides amazing game viewing drives, classic safari style accommodations and a sustainable solar system designed for comfort, while keeping with environmental stewardship.
Thereafter, you will take 20 minutes Grumeti Air flight from Lamai Airstrip to Sasakwa Airstrip and then to Singita Sabora Tented Lodge where you will take your final three days/nights in the Serengeti – Grumeti reserve, a combination of indoor and outdoor spacing that gives visitors a consistent view of the splendor of Tanzania's wildlife as they connect with nature.
This tented lodge has a main lodge area offering unique wicker baskets and fridges filled with gourmet delectable, where guests can select treats to enjoy in their private suites, as well as a separate pool area, two intimate dining spaces and an open-plan bar and lounge – all adding to Sabora's understated look, which emphasizes tailored luxury.
Tanzania Connecting Flight to Kigali, Rwanda
After your six days spent in paradise, you will be flown once again (courtesy of Grumeti Air) back to Arusha, and then onward to Kigali, Rwanda's capital city.
Here you will stay at the Singita Kwitonda Lodge or Kataza House depending on the traveler's choice, where you will spend the night in a comfortable bed in one of the hotel's luxury rooms.
Your stay will include a full meal, followed by breakfast the next morning before heading to the gorilla trekking experience in the park.
Sin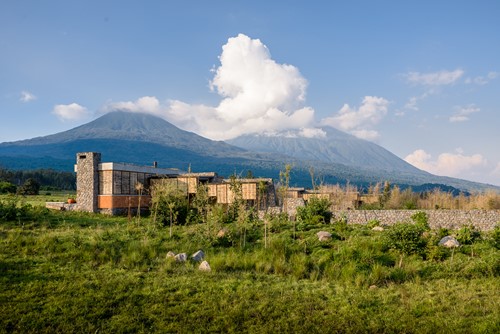 Singita Kwitonda Lodge & Kataza House
Encounter Gorilla Trekking in Volcanoes National Park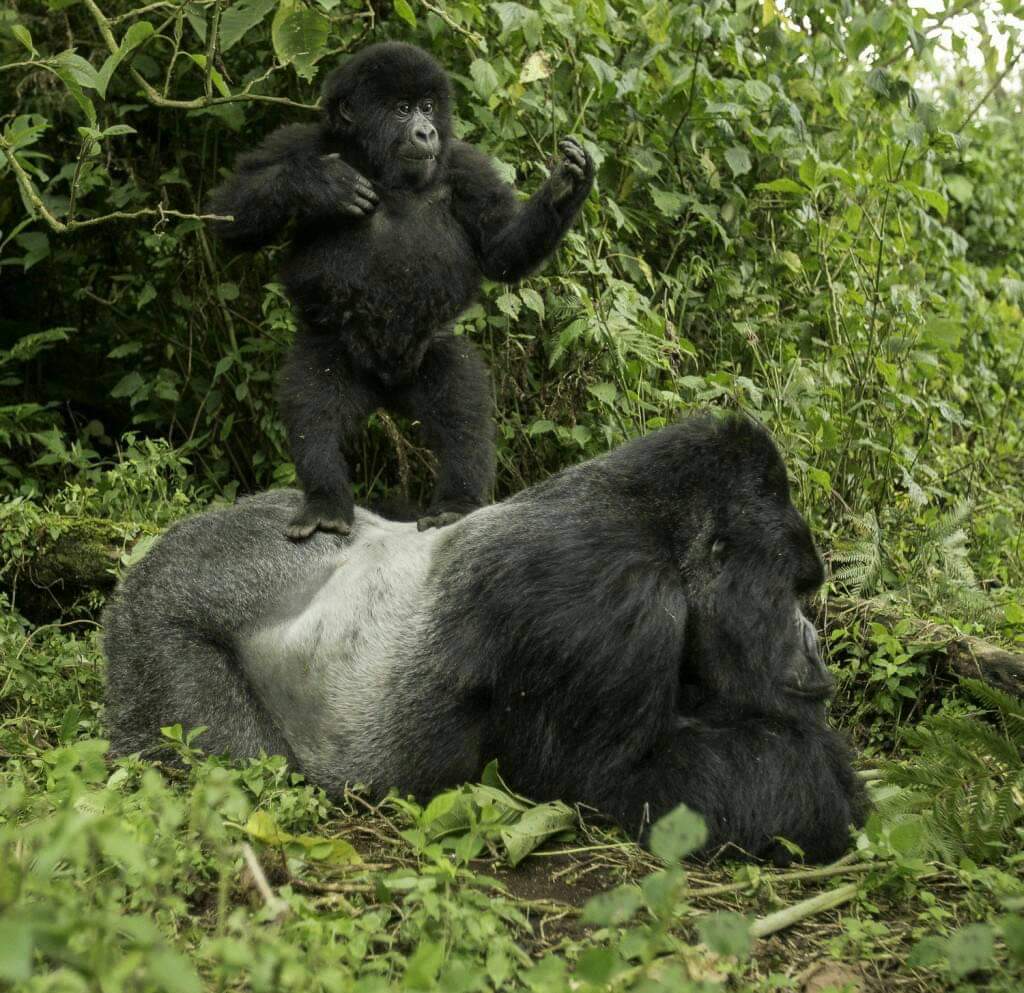 Gorilla Trekking Experience in Volcanoes, Rwanda
Your journey to Africa would not be complete without gorilla trekking tours the elusive and endangered primates in the world.
With only around 1000 of them in the world, your opportunity to come face to face with these gentle giants with the help of professional wildlife rangers will be a true highlight of your African adventure.
You will explore the beauty of Rwanda's Volcanoes National Park, a lush rain forest home to a diverse number of species, including the golden monkey, bush buck, black-fronted duiker, spotted hyena and over 178 species of birds.
While here, you will spend two nights at the Singita Kwitonda Gorilla Lodge, situated at the edge of the park.
In response to its exquisite location, each of the lodge's eight luxurious suites features a private heated plunge pool, in- and outdoor fireplaces and large timber-framed windows that welcome the breathtaking scenery and volcano views inside.
Elements like woven ceilings and hand-fired terracotta brickwork crafted by local artisans highlight the authentic East African appeal of this remarkable lodge.
Further raising the bar on sustainable luxury ecotourism, Kwitonda's farm-to-table food journey celebrates Rwandan cuisine and fresh produce from the on-site garden, while the Akarabo Nursery is a fundamental part of Singita's ambitious undertaking to contribute to the long-term conservation of endangered mountain gorillas by increasing their habitat through reforestation.