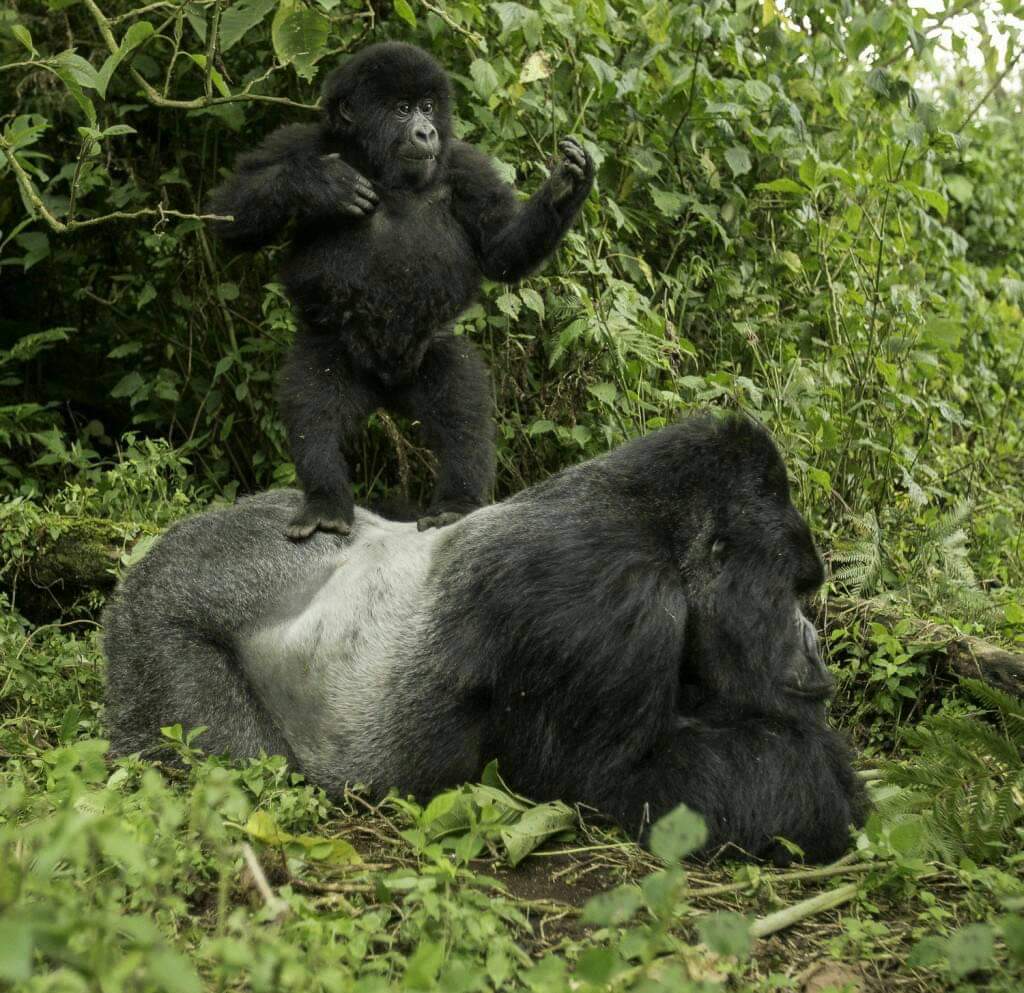 This is a Tanzania Rwanda Safari of East African safari destinations covering the Tanzania to begin the Big5 safari in Serengeti and Ngorongoro and thereafter fly to Rwanda and enjoy the rare mountain gorillas in Rwanda. After the gorilla trekking in Rwanda, you can either decide to go back home or go relax at the shores of the Zanzibar Islands.
Upon arrival at Kigali International Airport on day one, you will be met by the company representative/driver guide and transferred to your hotel. Accommodation at your preferred hotel.
Day2: take a City Tour in Kigali then after drive to Volcanoes Park
An early Breakfast, thereafter enjoy a City Tour of Kigali. The history of Rwanda dates back centuries, Kigali has been part of it for 100 years. Founded in 1907 as a German settlement, Kigali did not become the capital until Rwanda's independence in 1962 when it replaced the colonial seat of power in Butare.
Visit the Kandt museum, see old Kigali and the craft centres then visit the genocide memorial site. Learn about Rwanda's history from pre – colonial times to the 1994 genocide; learn about other genocides in the world and how this country has dealt with that past. Tour more and see the new developments in Rwanda; the recovery has been incredible, a testament to humankind's resilience. Lunch in Kigali.
Later, depart Kigali and drive to Ruhengeri.  Approximately 2.5 hrs arriving in the early evening at the Volcanoes National Park. Overnight at your preferred lodge.
Day3: go for Gorilla Trekking and drive back to Kigali in the evening.
An early Breakfast, and transfer to the park headquarters for briefing and registration a simple process where the park staff determines which group of gorillas you will visit. The park staff discusses your fitness level and advises you of the trekking times and conditions to the various groups based upon their location in the park the previous evening. There is a total of 88 gorilla permits available each day with a maximum of eight trekkers visiting any one group.
After the briefing, trekkers return to their respective vehicles for the drive up the mountain to the starting point.
Trekking can take from 2 to 6 or more hours if the gorillas move before the park rangers locate them the next morning. The guides stop frequently to allow trekkers a chance to rest and take photos along the way.   After the trek, re-join your driver Guide for a transfer to your lodge for lunch.
After lunch, depart from foothills of the volcanoes and drive south past coffee, tea and banana plantations on a scenic drive to Kigali. Everything and everywhere, sheer green and hanging on the hills; Rwanda truly – land of a thousand fertile green hills. (Approximately 2.5 hrs).  Overnight Kigali.
Day4: Fly from Kigali to Kilimanjaro then drive to Karatu
Early breakfast at your hotel in Kigali. Thereafter, transfer to the airport for flight to Kilimanjaro International airport. Upon arrival, you are met by our representative in Tanzania and drive to towards Karatu Area.  Check in at the Country Lodge Karatu. Rest of the afternoon at your leisure.   Dinner and overnight at your lodge.
Day5: go for Lake Manyara Safaris then drive to Ngorongoro
Early breakfast at your lodge.  Then depart for Lake Manyara for a full day safari with picnic lunch boxes. Game drive in the park till early evening when you depart for Ngorongoro Crater, arriving at your lodge in the late afternoon.  The lodge is located on the crater rim and enjoys spectacular views and sunsets.
Day6: go for Ngorongoro Crater Tour
You will depart early on a morning game drive down into the crater. Discover the diverse areas of forest, swamp lands, lakes and open grasslands in this volcanic caldera that's home to the densest concentration of wildlife in Africa.
There is good game viewing year-round, as most animals do not leave the crater. You might also spot Maasai tribesmen guiding their cattle down the steep crater walls to graze. Return to the lodge for dinner and overnight.
Day7: Drive from Ngorongoro to Serengeti
Drive to Serengeti National Park via Olduvai Gorge, the site of Louis and Mary Leakey's renowned archaeological discoveries. Their findings include some of the man's earliest known ancestral remains. Lunch at the lodge in Serengeti.
You will have an afternoon game drive in the endless plains of the Serengeti for a chance to see the great herds of wildebeest, zebras and gazelles or a pride of lions lounging in the shade. Dinner and overnight at the safari lodge.
Day8: go for full day game drive in Serengeti
Full day of game viewing in the Serengeti. Meals and overnight at the Serengeti Mawe Tented Camp in the Serengeti National Park.
Wildlife populations double during the migration season, but outside of the migration season, wildlife populations are still some of the densest on the African continent year-round.  They include substantial populations of plains game including buffalo, giraffe, and warthog; as well as a wide range of antelope species including dik dik, bush buck, water buck, eland, impala, and topi. With so many prey animals available all year round, predators can manage smaller territories. Big cat viewing is superb in this region of the Serengeti.
Day9: Drive from Serengeti to Tarangire
After breakfast at your hotel, depart for Tarangire National Park arriving in time for lunch and an afternoon of game viewing. Lesser kudu, eland, lion and gerenuk can be found in this beautiful park, noted for its multitude of baobab trees and its tree-climbing lions.
Day10: Drive from Tarangire to Arusha and Depart
After breakfast, drive back to Arusha to arrive in time for lunch. After lunch, transfer to the airport for flight out of East Africa